If you're an educator looking for a new way to organize your thoughts, Bullet Journals may be the perfect solution for you! This popular daily journaling method is perfect for keeping track of assignments, lesson plans, and more. Not only is it efficient and easy to use, but Bullet Journals also offer a sense of creative freedom. If you're interested in giving Bullet Journals a try, we've got some tips and advice to help you get started.
Bullet Journal for Educators.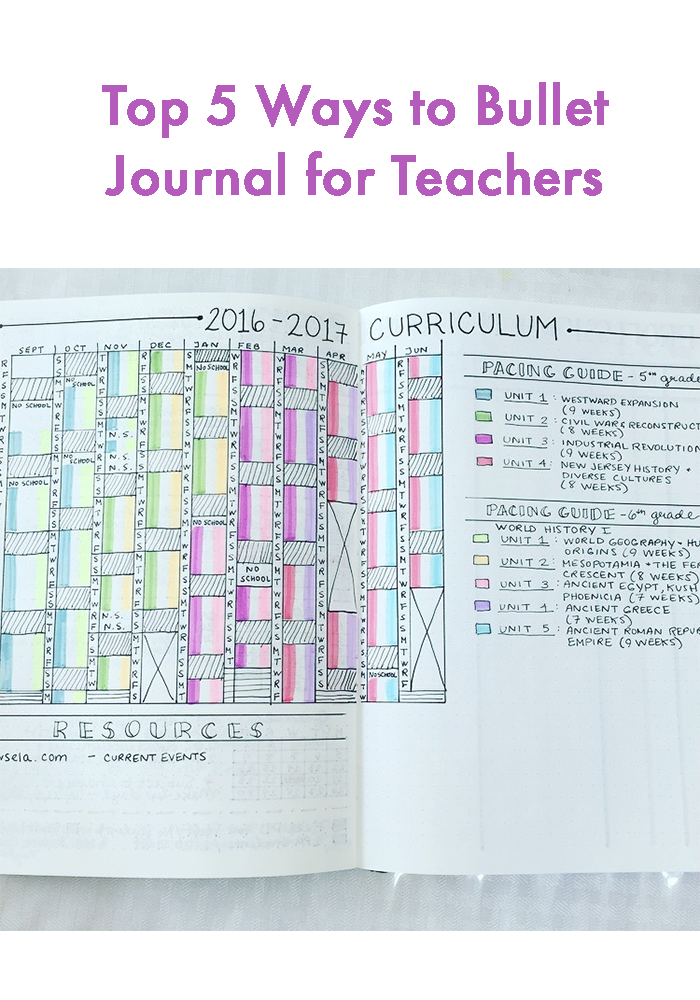 If you are already aware about Bullet Journal then you can skip this section but if you are new to Bullet Journals then here is the brief about what is a Bullet Journal ?
What is BUllet journal ?
Bullet Journal is a system that lets you plan, organize , brainstorm ideas , create new doodles and lets your thoughts flow freely. A complete bundle for exploration unlink printed planners that limit you .
A bullet journal helps you organize both your personal and professional life, to help you be more productive, to create habit trackers and to help you reach all your goals. It is a system that is customizable to your needs, it is easy to follow, simple and effective. You will need to start with a blank journal and lay it out for yourself. The journal (or notebook) must either have dots, squares or be plain inside. Ideally it would be dotted as you can create set-ups with more ease.
The Bullet Journal is about – 'the art of intentional living'
Check Out this blog : What is a Bullet Journal? The Bullet Journal Basics..
What is included in the basic layout of the bullet journal
Cover Page : A must included cover page for the start of the year or every month .
Key – a list of the symbols you use to help you address your priority of tasks
Index – a list of where to find important pages in your bullet journal
Future Log – an annual calendar to record your imp. dates/ events etc
Monthly Log – a monthly calendar
Daily Log – your daily list of to-dos, notes, etc.
Collections and Lists – anything else you want to keep in your planner that varies from person to person
Bullet journal ideas for Educators
Here are few amazing ideas you can definitely try in your bullet journal.
Bullet Journal for educators !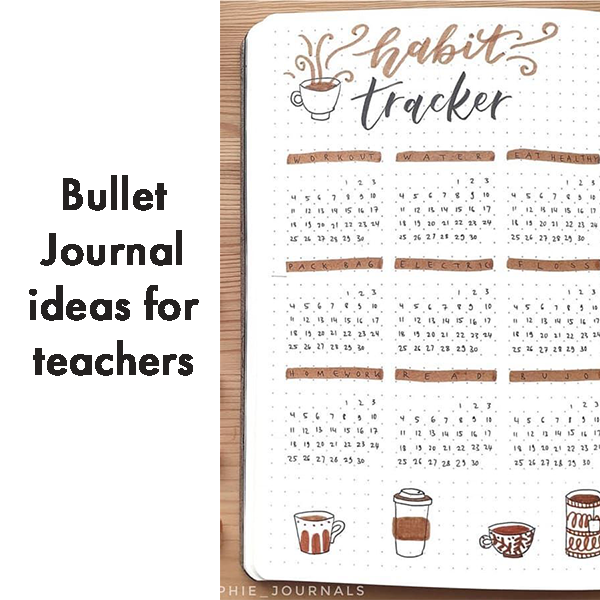 bullet journal Dashboard for educators
Turn your BUJO into a work planner where you mention details related to your work like: a to do list , grades , test marks , student names etc. .
Your Dashboard may look different depending upon our needs and tasks and you can definitely go for a simple spread , if you feel like adding your creative touch then go ahead and do it .
Bullet Journal for educators !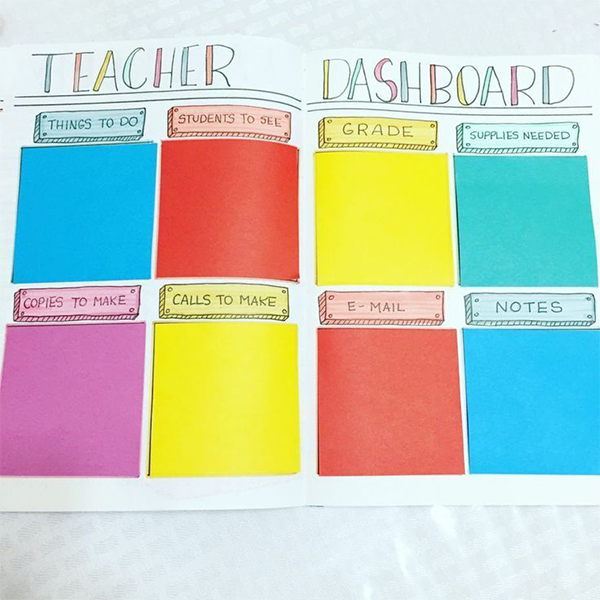 Weekly schedule
These are the most essential part for educators . Planning the week before hand helps know how and when to allocate time for activities on the list . Prioritizing your work and energy allocation is the name of the game . Everyone wants to make time for their family , kids and themselves . A good time division can save you time for things you really want to do .
This spread is a must for everyone who is into planning !
Check out this blog : 3 ways to create an epic weekly log in a Bullet Journal.
Bullet Journal for educators !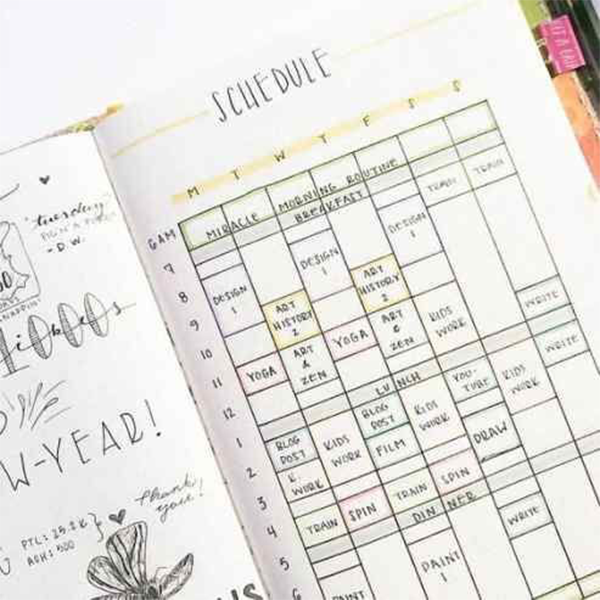 Ideal Day
Have you ever thought how your ideal day may look like ?
If you haven't yet , try making out a perfect day on a piece of paper . Fit the task in your desired time slots and make an ideal day with all your fav. activities .
A day you think you should be living everyday , something that is so perfect and ideal just for you .
Preparing your next day a night before gives you a head start the next morning . You already know yours goals for the day and how you want to head towards them . It's so much better than meandering the whole day with puzzling goal list and no action plan .
Bullet Journal for educators !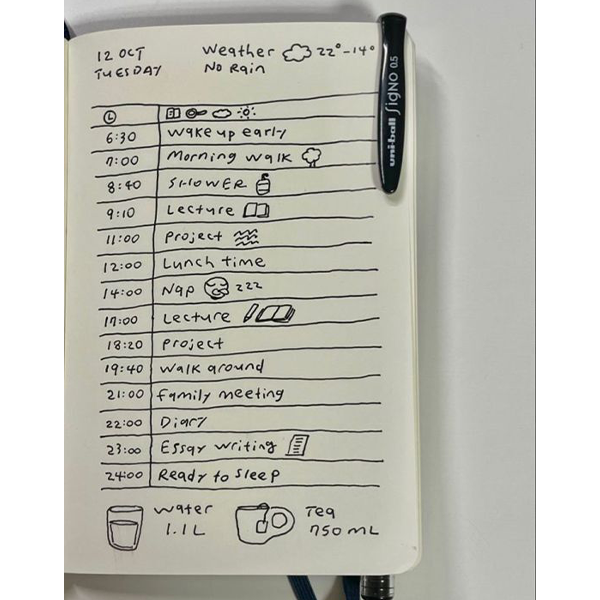 Mood Tracker
Don't miss out this list in your Bullet journal . I know it's hard being an educator . You showcase a range of emotions with great intensity . You love your students and praise them for their virtues but on the other hand you are enraged because of their mischiefs . Balancing out all your emotions is a necessity .
Mood tracker lets you track your mood on a daily basis . It helps you know how you are feeling lately and if you aren't burned out giving yourself out to the world .
Bullet Journal for educators !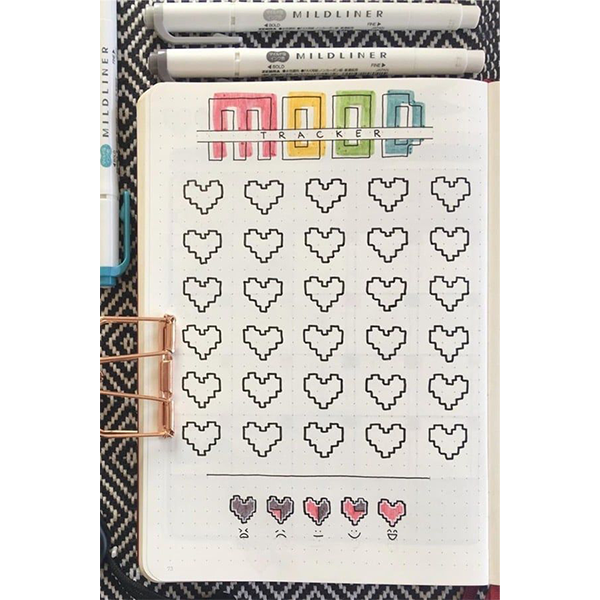 Brain Dump
Are you holding your feelings aback ? Are you messed up with your huge to do list ? Do you feel like stabbing yourself with numerous work ?
Brain dumps is here to sort your thoughts !
With many things going at once , its intimidating for all of us to deal with so many dichotomy in one go . The best way is to pull out a page in your Bullet journal and start writing everything your are messing about right now . Try to sort the things , club them , segregate them into buckets and place them in the right order . Sometimes we are messing up in our heads and it becomes very easy if its on the paper.
Check out this blog : How a Brain Dump can effectively clear your mind
Bullet Journal for educators !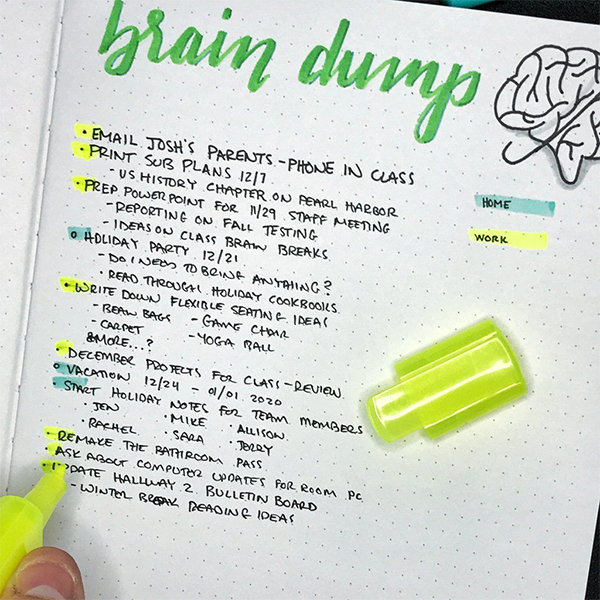 Habit tracker
The master of all , a habit track that helps you build habits and by tracking them for you . Every time you tick an activity you completed for the day , you receive a joy that bounds no limit .
A must list for all the educators out there !
Check out this blog : 43 Things To Track in Your Habit Tracker.
Bullet Journal for educators !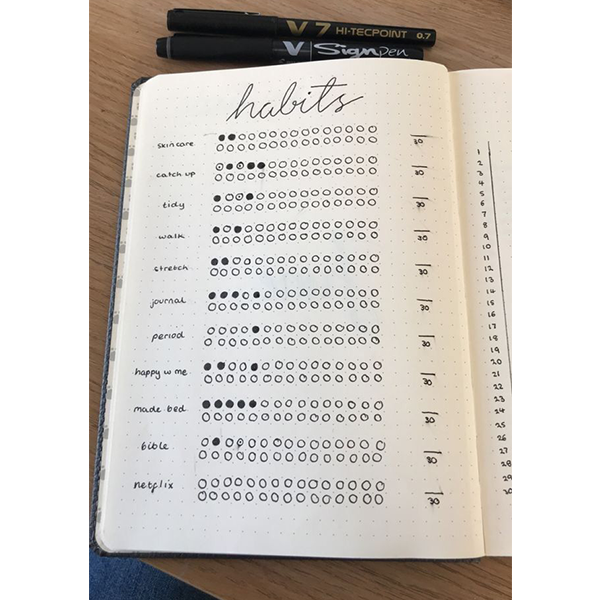 Gratitude Log
Being grateful shouldn't be an act but rather a daily habit. At times we are so buy to take some time out to appreciate beauty of small things around us . It's absolutely necessary and should be done out of natural habit . Its a course of life !
Dedicate a page in your Bullet Journal to keep a track of all your blessing daily !
Bullet Journal for educators !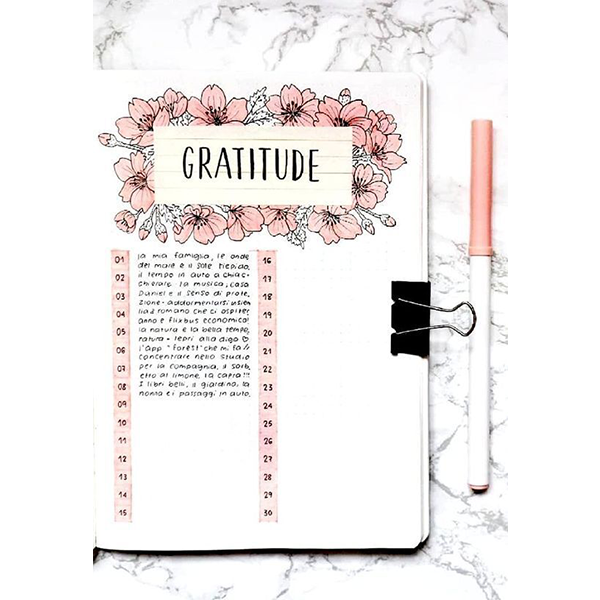 yearly curriculum
Writing down your yearly curriculum can save you from last minute hustle bustle . With all your topic mentioned , you can easily plan what to teach in which class . It gives an idea about chapters timeline and how much effort and resources that topic might demand . It will increase your performance rate with a proper action plan in hand .
Bullet Journal for educators !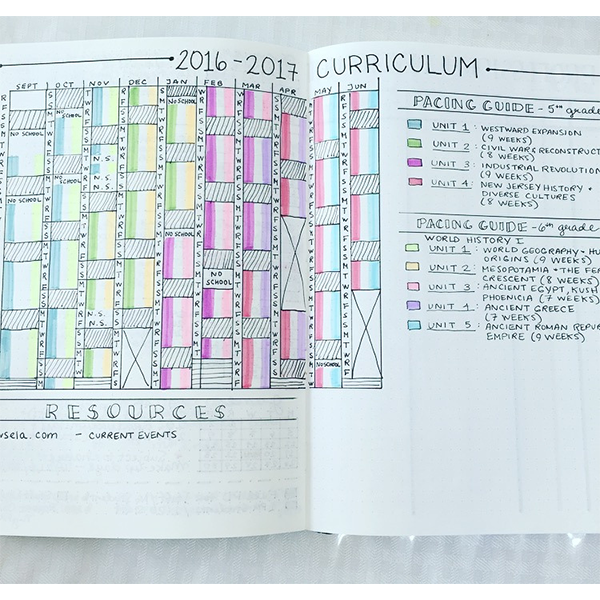 In the end we have no rules for Bullet Journals and you can customize them to your needs .
I hope you find this blog helpful .
Let us know what pages you like to plan as an educator in your Bullet Journal !
Bullet Journaling for teachers !