Have you used the brain dump technique before? In this blog, we will look at how a brain dump can help you effectively clear your mind.
INDEX
I have split this blog into sections which should help you can clearly read your way through. You can follow the sections in any way which suits you and let me know if you find them helpful in the comments at the bottom.
What is a Brain Dump?
Why do you need to Brain Dump?
How to Brain Dump
My Brain Dump Method
Sample Brain Dump pages for your Bullet Journal made by ME!
Conclusion
What is a Brain Dump?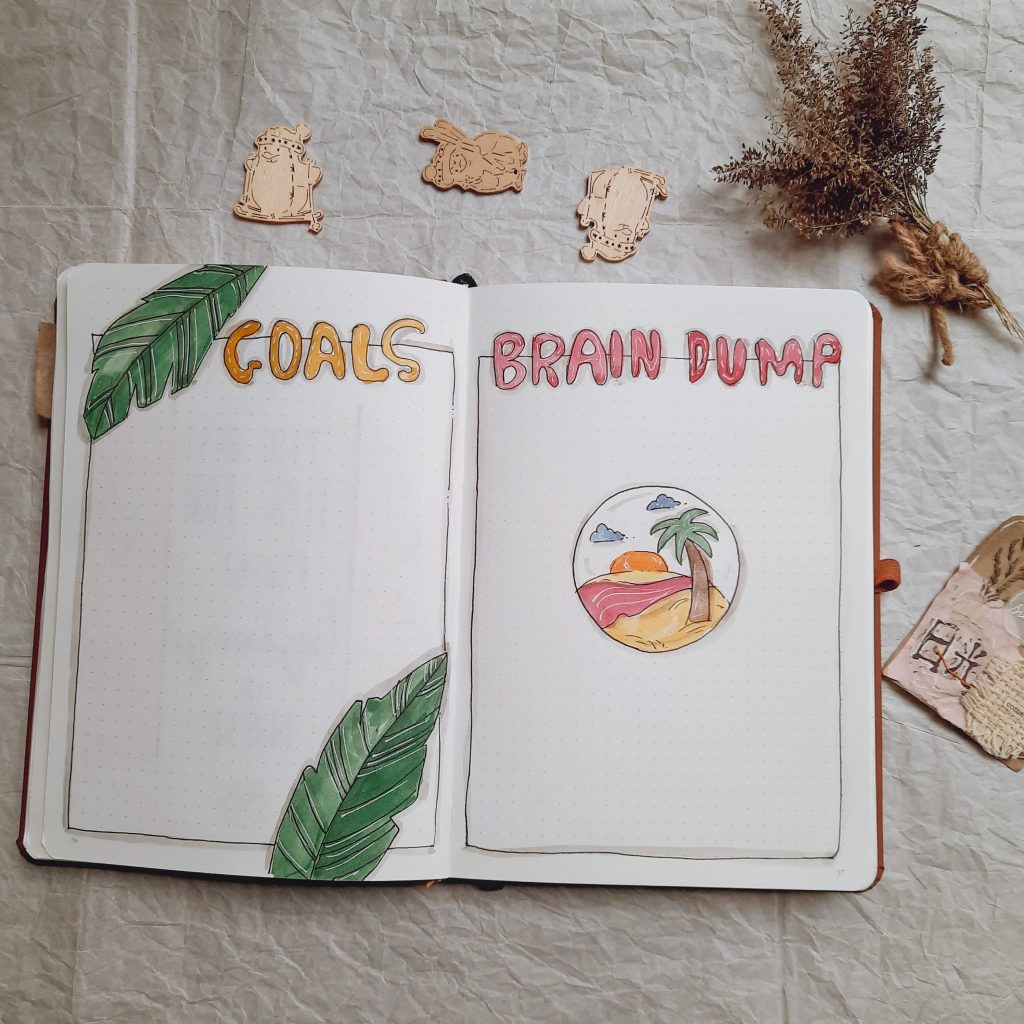 The 'brain dumping' technqiue has been around for a long time though and well before the first bullet journal was made. You may have even used the technique before without realising that was what you were doing.
Brain Dumping is when you clear your mind by putting all of the thoughts that are cluttering your mind down on paper. From there you can transfer them onto a 'task list' or you can leave them on the page.
According to Merriam – Webster a Brain Dump is:
The act or an instance of comprehensively and uncritically expressing and recording one's thoughts and ideas (as on a particular topic)
When the season changes I empty my junk draw, it is normally full of things I don't really need to keep! Sometimes it is hard to say goodbye. I feel so much better once it is done though. I have more space to live in. Emptying your mental junk draw is just as important as emptying your physical one. We all have baggage, we are all busy and I think we have all experience racing thoughts.
Our brain is only able to keep up with a few thoughts. It does not have unlimited capacity and it is easy for it to become overwhelmed, it is a muscle after all. Could you run 24/7 without stopping? No way! Your body would break down. Well, your brain is the same. The kindest thing we can do to ourselves is to give our brains a break! Here are some methods I use to give my mind a break:
I exercise every day
I sip on a tea slowly
Read books!
I create my Bullet Journal spreads
Have a bath and listen to a podcast.
Start a brain dump.
Emptying your mental junk draw is important.
Why you need to Brain Dump.
"The human brain is probably one of the most complex single objects on the face of the earth; I think it is, quite honestly." Bill Viola
Our brains are amazing! They have the ability to learn something and then start coming up with new ideas based on that subject. As mentioned above though, they can get overwhelmed easily. Just like a computer, you need to power down sometimes.
In a world where everything moves a million miles a minute, we all need to be able to protect our minds. Mental wellness and mental resilience are things that need to be constantly worked on. Our brains are simply not supposed to hold everything which is why it is important to empty them.
If you have every experienced –
Racing thoughts
Overwhelm
Anxiety
The feeling of 'forgetting' something
Stress

Then this technique is for you. Share your thoughts free and let me help you understand how to use this technique.
How to Brain Dump.
Now that you understand why you should need brain dumping and why you need to, it's time to learn how to brain dump!
You will be happy to know that it is really easy to learn this technique. There are also multiple ways to brain dump and it is important you do it in a way that suits you.
To start a brain dump, simply write all of your thoughts down onto a piece of paper! You can then sort these thoughts into categories but you don't have to. The main point of this technique is just pulling those thoughts out of your brain.
Ways to Brain Dump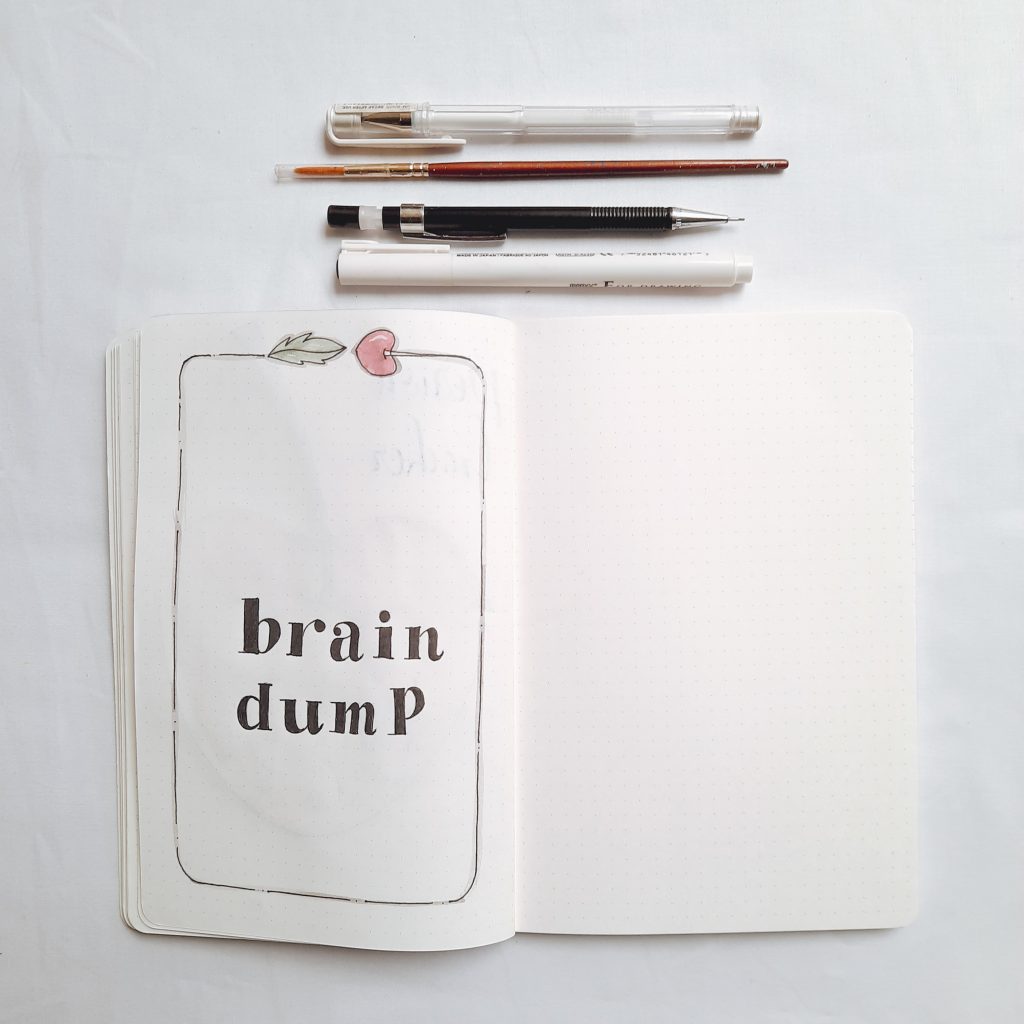 Although Bullet Journaling has made brain dumping fashionable, it has actually been around for years and can be completed in a variety of ways. You could simply grab a piece of paper and start writing.
Write a list
Draw the thoughts in your head as a picture.
Write your thoughts straight into your bullet journal.
Use a separate journal just for brain dumping.
The way I Brain Dump.
This is how I complete a Brain Dump –
Step one –
I write down all my thoughts in my Bullet Journal weekly. I write them in a list form first and try to keep them tidy. Don't worry about putting them in categories or grouping them, this will come next.
step two –
You now need to categories them. To do this create categories like 'work' and give it a colour. Some other categories could be –
Finances
Personal
Pets
Children
Sport
Give each category a colour. Then add in the colour that corresponds to each task, once that is done give each category a page and add in the tasks. Make sure to do this part before creating a weekly log so you can make sure you have enough pages.
step three –
The final step is to create your weekly log and add in the categorised tasks. Try not to overload a day with tasks. Some tasks that come up via your brain dump might actually be for the future so add them to your monthly spread or future log if they are that far in advance.
Brain dumping is a form of self-care so sometimes feelings or emotions may come up while you are writing down your weekly thoughts. Put these aside and spend some time that week thinking about them and performing some self-care (for example – a bath).
My way of Brain Dumping- VIDEO
You can follow along with every step I have mentioned above in this video I made. It shows you really clearly how I brain dump and create my weekly logs!
Different names for a 'Brain Dump'
I use the term brain dump because it is widely used in bujo circles but there are plenty of alternative names and here are some of them:
Brain download
Brain backup
Brain drain
Mind decluttering
A mind purge.
Mind musings
Mind overflow
Thought catcher
Thought garden
Thought purge
A thought map.
So many words exist for this one technquie and some might sound familar to you.
SAMPLE BRAIN DUMP PAGES MADE BY ME!
minimalist brain dump spreads.
In my minimalist bullet journal I created a really simple brain dump page. My theme is nature and this month it was cherries in nature hence the pop of colour. I like to put the words brain dump on the page and work around them, I find it helps my ideas flow but you could place them at the top of the page.
My style
I make brain dump pages at the start of each month but I use them weekly. I prefer 'batch' making them so that I don't run out of time to do them weekly. They are a really important part of my mental wellness practise. I keep them simple and leave plenty of space for me to write my thoughts on and then categories them.
Travel themed brain dump.
This month I made a brain dump in my travel-themed bullet journal. It is 'Bali' themed hence the tropical vibes do you love? The positive vibes that are coming off this page make me so happy.
Conculsion
I hope you now have a better understanding of how a braindump can effectively clear your mind. It is a really simple and effective system that can benefit your mental well-being.
Here is one last tip, I am busy so while my tea is brewing I sit down and put all of my thoughts down on paper. Later on in that day or the next day when I have more time, I go through and organise my thoughts into categories (as mentioned above). I find sitting down with a cup of tea helps me breath and take a moment for myself. If you try this at home, tag us in a picture on Instagram!
Please follow me on Instagram for all my tips and tricks.
Read about how to create trackers in your bullet journal that can boost your mental wellbeing here.