Welcome all Bullet Journal lovers !
Find top 10 most amazing Bullet Journal Instagram handles you might not want to miss in 2022.
Bullet Journal Instagram inspiration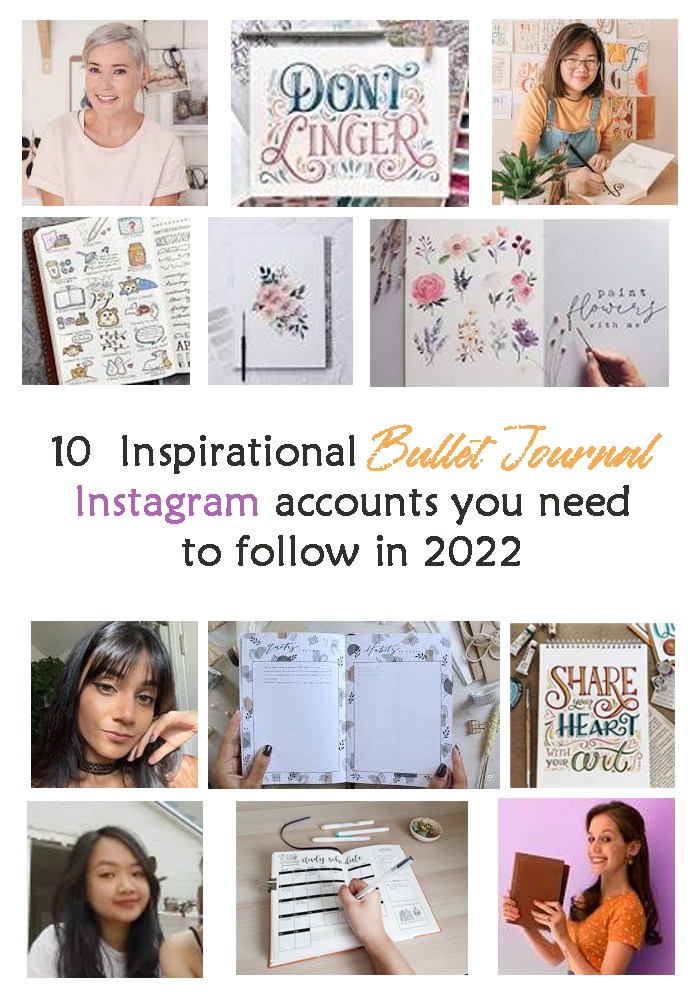 Bullet Journal Instagram inspiration
This blog is a special dedication to all my favorite bullet journal artist on Instagram . They are all my constant source of inspiration . Every creator out there holds a special power that makes them unique in their own way.
In this blog I will deep dive in who are these creators and what make them special in my eyes , what special powers do they hold and what inspires me the most about them .
Bullet Journal Instagram accounts you need to follow
shayda campbell
Shayda Campbell is an artist, illustrator, and a nature teacher. Her YouTube channel is a calm, inspirational space where you can approach the basics of hand lettering, printmaking, watercolour painting and many other crafts. Shayda's approach to art is very light , you may find yourself drawing the most complex flowers in most easy ways .
I personally love her watercolor flower paintings and how she approaches Bullet Journal and use them as her creative outlet . She makes it very easy to comprehend the natures complexity . She also gives great tips about how you can make it easy.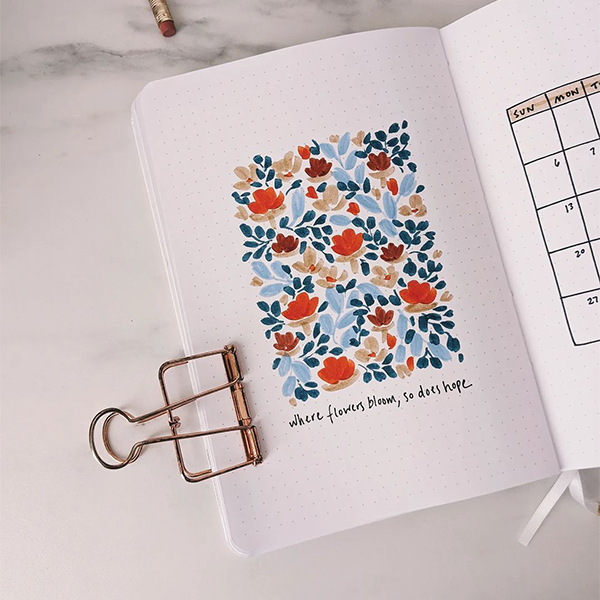 abbeysy
Abbey Sy is an artist, bestselling author, and creative entrepreneur from Manila, Philippines. Her penchant for analog-style documenting, reading books, and exploring the world ignites her passion for making art and sharing stories.
She wrote books like :
The ABCs of Hand Lettering, The ABCs of Journaling, and Always Be Creating: A Field Guide to Living a Creative Life.
Hand Lettering A to Z, Hand Lettering A to Z Workbook, The Complete Photo Guide to Hand Lettering and Calligraphy, and (coming soon) The Art of the Travel Journal.
She creates content on YouTube and Instagram and is one of my top favorite creators . I absolutely love her lettering and her aesthetics . Her page will definitely leave you stunned. I also love how she mix and match everything.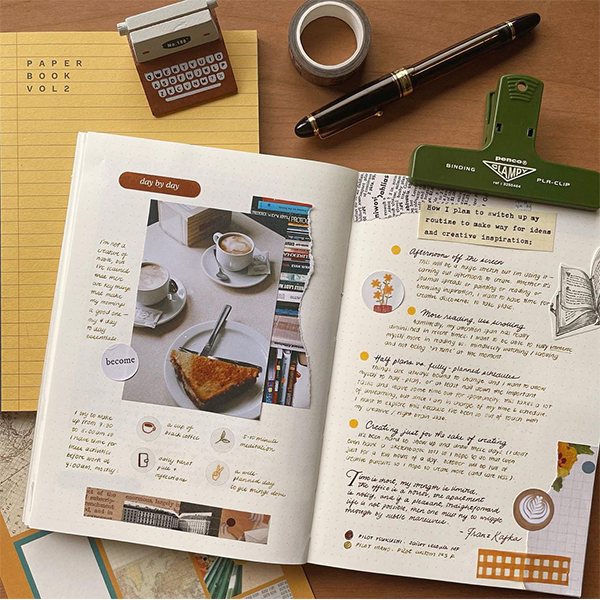 leela journals
I found Aarti's amazing page on Instagram while searching for inspiration . She is one of those creators whose doodles are so unique and I absolutely love copying them ( so sorry but you are just amazing ). Although I fail in replication but still love how she uses small details and delicacy in her spreads. She uses washi tapes to divide the content , uses brush pens and micron thin nib pen to color and draw . She mostly uses neutral colors and her spreads are so dreamy .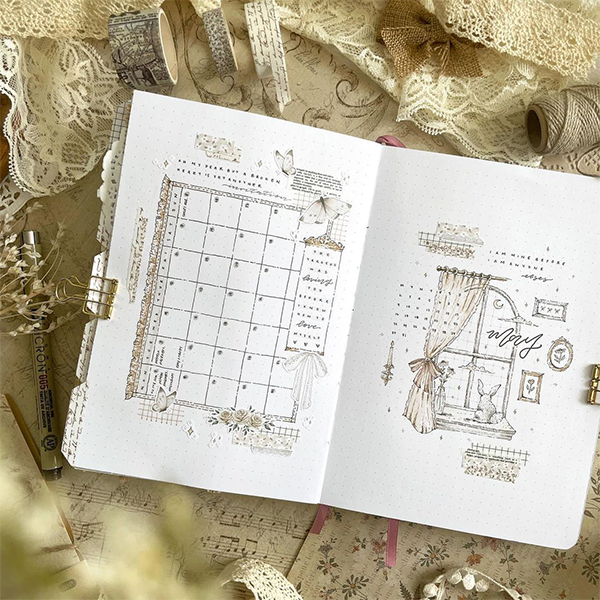 Anna is a 19 year old German girl who loves lettering , bullet journaling and art .
I love how she uses brown in her spreads along with other colors . You will find brown papers with white ink in almost all her spreads . Love the contrast and balance she holds in her spreads . By looking at the spreads you can easily make out that she loves brown so much .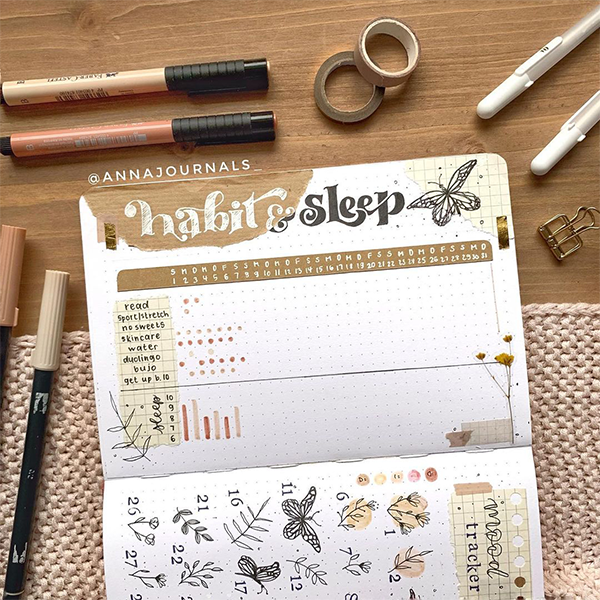 journal bambie
Shruti is an Indian based stationery lover who loves planning and bullet journaling .
She uses alot of 3-d elements in her spreads and you will find that her spreads are always popping . She too is a big fan of brown color and uses theme very wisely . Her aesthetic pictures and clean doodles always make me wonder for how much time she might spend on each spread.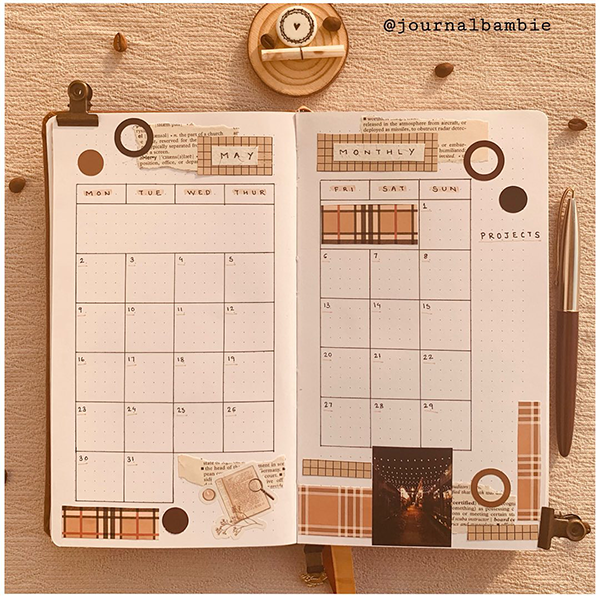 tanushree journals
Tanushree is an upcoming sensation in the Indian bullet journal community. I absolutely adore her for her experimental nature and how she explores products from different brands . She always leave me in awe whenever she create something using different brands stationery . She had elevated the bullet journal standards to heights . With her easy to do and simple spreads , anyone can get inspired to start bullet journal on their own.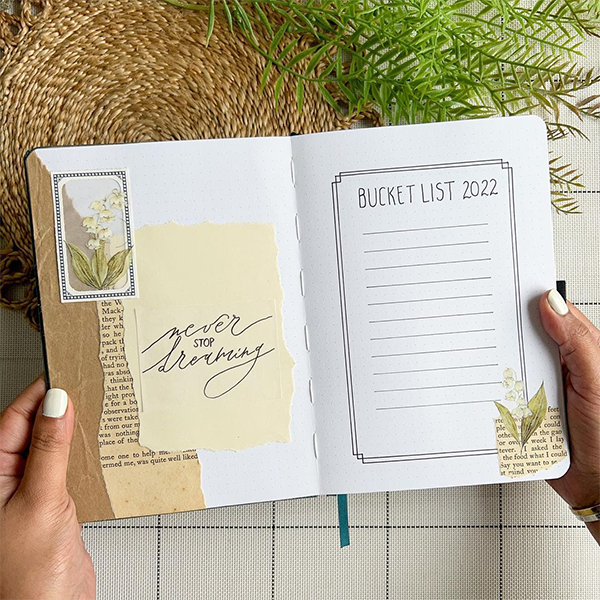 bujo with lei
Lei from the Philippines but currently staying in Malaysia for work.
She is a software engineer but her dream job is to own a cafe/stationery shop 🤍 .She loves to journal and collects stamps/papers/PET tapes.
I have been eyeing on her for months . Totally mesmerized with her paper collages and how she makes her bullet journals so creative and out of the world. I always draw inspiration from her work when I am trying to set up a collage in my journal. I love how she takes pictures and maintain her Instagram color palette . You must check her out if you love paper and soft pictures.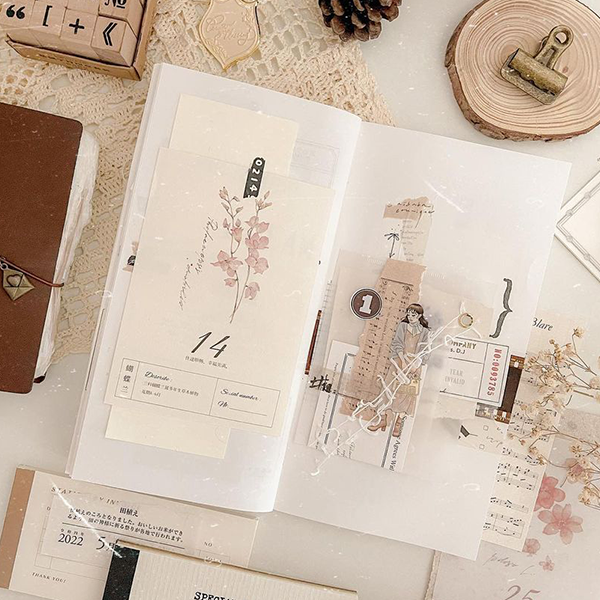 lara machtkunst
Lara is a graphic designer and she very well knows how to use her design skills in her spreads. She is seen as a fan of earthy tones . Most of her spreads color palette holds brown and greens . Her added calligraphy skills are a boon to her . She puts the use of brush pens to its best and brings contrast and dominance to her spreads.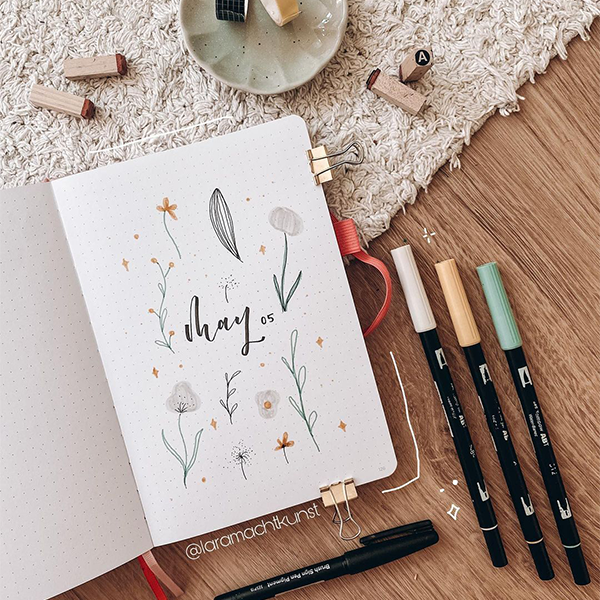 plans that blossom
Nicole Barlettano is a New Jersey-based mother, graphic designer, and passionate bullet journaler with over a decade of experience in the product development and crafting industries. She currently works as a product designer for children's craft kits for brands such as Disney, Marvel, and Warner Brothers.
I am a big fan of her doodles , they are just marvelous . I adore her skills of adding shadows and light to her little illustrations . It seems that she enjoys her work alot and her journals are an outlet for her .You must check out her Instagram for pages full of doodles that are so amazing that you would never want to miss it .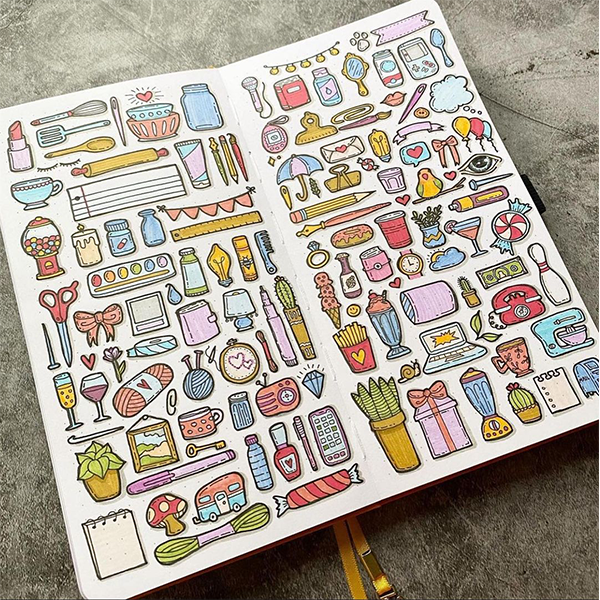 doodlelou.co
Louise Chai a designer and artist who enjoys creating an accessible bullet journal.
After graduating from university and earning a Bachelor's degree in Interior Architecture and Design, she sought to learn a new creative skill focusing on analogue materials as most of her everyday work had become digital. She turned her hand to brush lettering and discovered bullet journaling through this community.
She is definitely one of my favorite and has best Instagram bullet journal ideas. I came across her profile through domestika course. Ever since then I started following her on Instagram and fell in love with her amazing design and color palette . She always bring something new and fresh every month .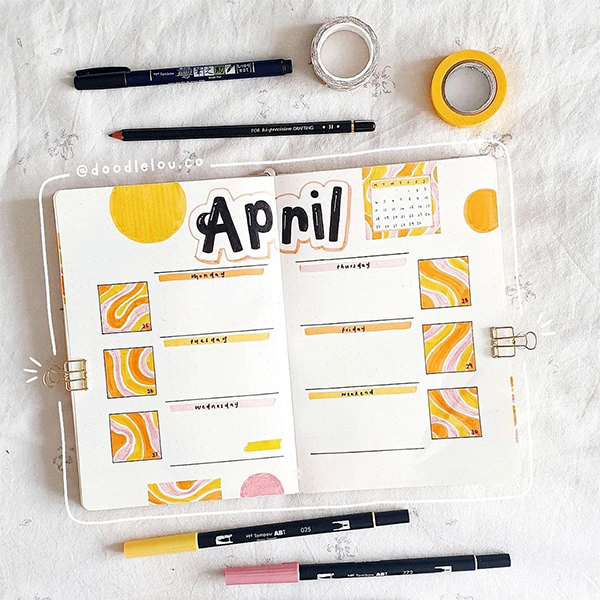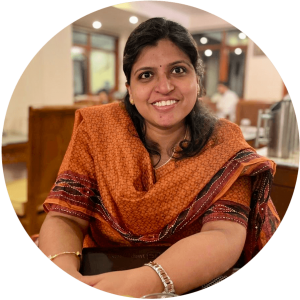 I am Dr Hemapriya Natesan and have been journaling for many moons. For awhile now I have wanted to start a blog about my journey with planners………… read more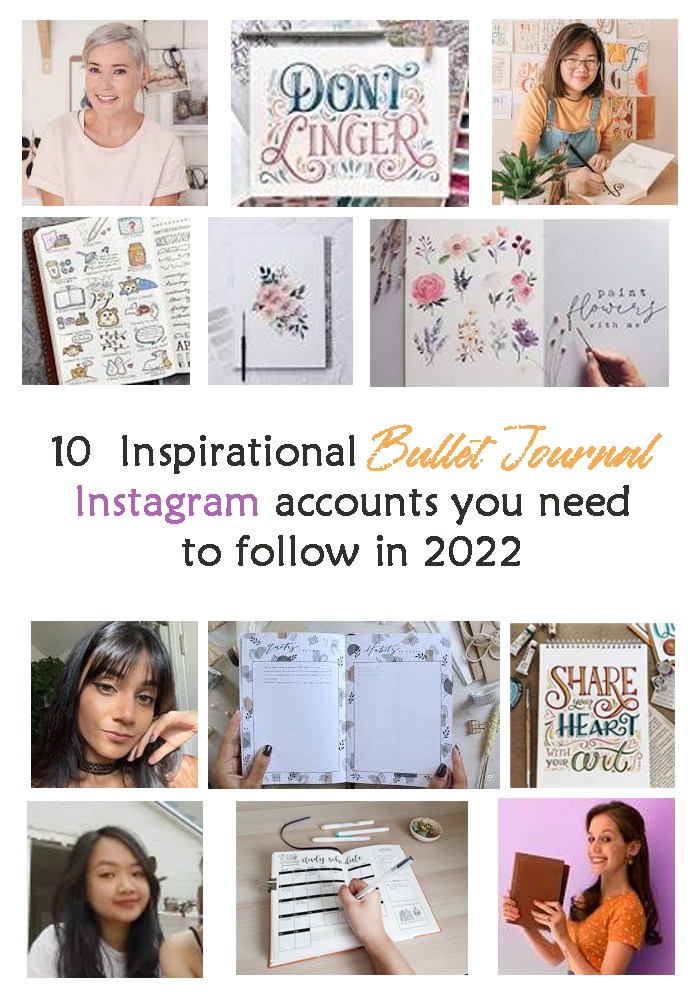 Bullet Journal Instagram inspiration