Let's learn how to create a simple habit tracker you'll actually use. In this blog I will talk you through two minimalist habit trackers and I have a bonus video for you!
What is a habit tracker?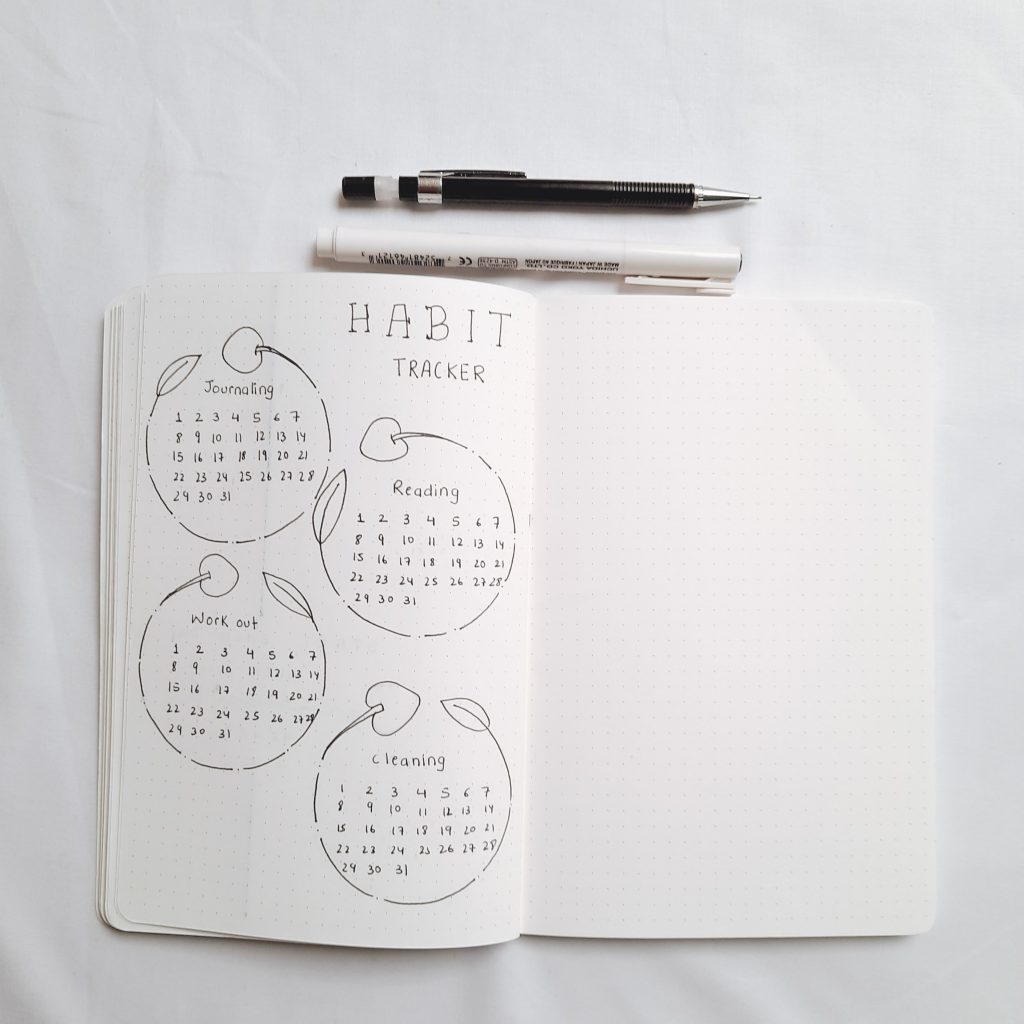 A habit tracker is a page in your bullet journal that allows you to track existing habits and new habits you would like to implement. You can make a new habit tracker each month which allows you to create fun spreads. My minimalist journal theme is nature and my spreads reflect that. Let's start with my February habit tracker.
My february habit tracker
Today is the 1st of March but I have been so busy that I have not had time to post my habit tracker! Which means you get to learn two spreads at once! I used the row and column technique for this simple habit tracker. I had a leafy theme for February which tracks down the page.
I started by drawing an outline of the spread with a pencil. I wrote the months dates down the side (leaving room for my leafs) and I wrote habits at the bottom. I like to keep my habits manageable and so I picked seven and wrote then at the top. Next I drew my leafs and branches. I really like how my leafs flow with the rest of the page. They represent growth throughout the month and growing new habits.
When I had finished with my pencil and I was happy with my layout, I started drawing over the pencil with my fine tipped black pen. I carefully went over everything and rubbed out the background pencil once the ink was dry.
The final step for this really simple habit tracker was to outline my leafs, branches and the word 'habit'. I used my grey watercolours for this step and waited for them to dry fully before touching my any bits or making some parts darker. I am really happy with how this spread turned out and it is very simple to make. Anyone can do it and you will not need many materials at all.
Video! 5 ways to create a habit tracker.
I really love creating habit trackers and love to mix up the style. I put together a quick video which shows you 5 ways to create a habit tracker.
My march habit tracker!
You are the first people to see my March habit tracker and I am very excited about it! My march theme is 'cherries' which I thought would be lovely as we come into sunnier times. It is very easy to re-create and again uses minimal materials but I hope you will really like it.
This month I picked four main habits but if you had more you could use a double page. I started by spacing out my mini calendars. I write 1-31 and the habit above it. Once I had finished all four, I drew a circle around the habit with a leaf on one end and a cherry on the other. I was quite happy with how my spacing turned out, you could use a ruler or count the dots.
Just like my February habit tracker I then went over the pencil with my fine tipped black pen. I left gaps with a dot in them in my circles. I really like that little detail but you could also do a complete circle. Once you are happy with your pen, grab you watercolours for step three.
Finally I used my red and grey watercolours. I shaded in around my circles in grey and the leaf itself. I also painted a little grey line underneath the habit. With my red watercolour I gently painted my cherry. I tried to leave a little gap on my cherry for a white flick which create a shiny cherry look! Once dry, I then went over that white part with my white fine tip gel pen.
Simple habit trackers
Do you like my simple habit trackers? Will you re-create them at home? They are honestly really easy to create a home and customise to match your own personal bujo style. If you have any questions please leave them in the comments below or contact me via Instagram.