I am so excited about this week's blog! I am going to show you 5 exotic Indian Bullet Journal spreads. Plus I will show you a special type of Indian Art called Gond Art.
This blog is all about India and I made it to inspire you all to create exotic Indian themed spreads in your Bullet Journal. I am also going to show you a traditional type of painting called Gond art. Let's start by looking at a weekly log.
Weekly log exotic Inidan theme.
I really love this spread. The colours are gorgeous and the maker is clearly a very talented artist. If you are like me and find it hard to draw detail, print out a picture of this and sketch it through onto your bullet journal.
Monthly view and playlist with an exotic indian theme.
This is a Diwali-inspired monthly log and playlist spread. The logs themselves are very easy to re-create but the great part of this spread is the details. The maker has cut out pictures from magazines and has glued them to the page. I love the detail this adds and the texture. It adds a scrapbook vibe and I will be trying this when I make my next spread.
Ideas spread
This is a page for all of your ideas. I think it is so valuable to put all of your ideas in one place as opposed to sprinkling them around your journal. This is a really simple spread to re-create yourself and again the maker has cut out pictures to add texture and detail.
travel map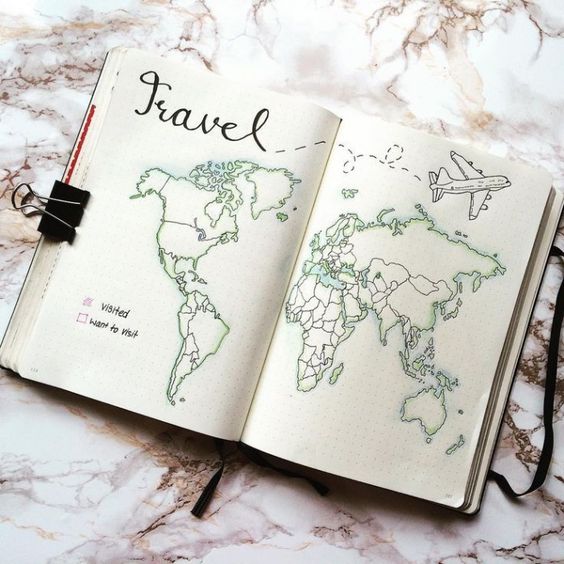 I really like this travel map idea. You can shade in countries you have visited and circle ones you would like to visit. At the moment because we can only really travel within our own country, you could just draw India and focus on places within India that you have always wanted to visit. We have the opportunity to really explore our own country and so it would be fun to plan a road trip.
using gond art in your spreads.
Gond Art is traditional folk art. It is practiced by the Gond community of Madhya Pradesh, which is one of the largest Tribal communities in India. Gond paintings are made of intricate dots, lines, and dashes which give still paintings a sense of movement. It really is a beautiful way of painting and you can use it within your Bullet Journal spreads. If you are new to Gond art you could start with small paintings on your page and work your way up to larger pieces of art. This type of art takes patience and time but the end result is beautiful. Let's look at some amazing types of Gond art which I hope will inspire you to create your own.
Bullet journal gond art
WOW! I just love this creation by Gond-Art India. I think this shows you really clearly what Gond art is. You can see how intricate the pattern is that has created this painting. It is made up of lines, dots within dots, some crossed lines, and long circles with lines. You can play around with this type of art and make it your own.
This is an example of Gond art in your bullet journal. The Indian Bujo has created a beautiful gratitude page. They have made the art the centrepiece of the page and have created a border using Gond techniques. You may need some different materials for Gond art, I would recommend:
Fine tipped pens
Fine tipped pencils
A fine tipped paintbrush (oil paintings instead of watercolours)
Although normally I always use watercolors for this type of intricate art they could run. You need materials that will give you sharp dots and lines. Fine-tipped pens would be best for this or pencils. If you have access to neither why not use oil paints and a fine-tipped paintbrush.
My favourite one!
This is my favorite so far and I like that some block colours are used but also the details in the leaves, the small dots. I really love the bird that is sitting on the tree looking for a snack and what a lovely tail the bird has!
Have I convinced you to try some Gond art in your Bullet Journal? You could do a small doodle but make it in the Gond style. I love that this type of art is unique to India, we are so lucky to have such a rich culture and arts scene. It gives us our own traditions and uniqueness that is to be treasured. If we can take a traditional art form and put it in a new type of journal, that is us carrying on traditions which is so important.
Because I love gond art so much here is one more example…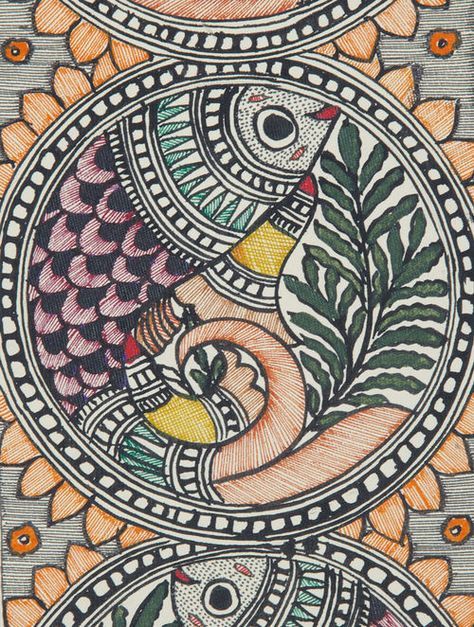 This intricate fish painting is absolutely gorgeous, imagine it as wallpaper? Or as a cover page in your Bullet Journal? You could take a tiny part of any of these designs and put them in a corner of your Bullet journal.
Thank you for reading.
I hope you enjoyed this blog and that it has shown you how you can incorporate Indian art into your bullet journal. Bullet Journaling is still not very popular in India but we can all create some beautiful exotic Indian-themed bullet journal spreads.
Follow me on Instagram here.