If you would like to start creating your Bullet Journal you will need some fabulous pens and other supplies to get you going. In this blog, I will introduce you to some of the best pens and supplies for Bullet Journals in India.
P.S We have recently updated these supplies so even if you have seen this blog before –
take another look!
Some of these links are affiliate links.
The Best Pens For Your Bullet Journal
The creative side of Bullet Journaling can feel overwhelming. Your mind can start racing, what do I need, where do I even start? Well all you really need to start a successful bullet journal is the ability to create a daily journaling habit so if you already have that, let's have fun looking at some bullet journaling supplies in India.
I will start by being honest with you. I have always loved stationary. One of my favourite memories was being aloud to pick anything I wanted on my birthday from my dads work stationary cupboard. I always have a notebook in my bag, pens, pencils and sticky notes. So the fact that you get to pick fun stationary to help you along with your bullet journal is well, a bonus for me!
I strongly believe you can never have enough pens, wasabi tape, pencils, journals or any type of stationary. You may find that lot's of the designs you follow on other blog pages use markers but as they are so expensive here in India, I will show you other pens that are just as good and better on your purse strings. You can create beautiful designs without markers especially with water colours but for this blog we will focus on the best pens available to you in India.
Let's go pen shopping.
SAKURA PIGMA MICRON BLACK OPEN STOCK 02 (0.30mm) – ₹ 90.00
This pen is perfect for smooth writing, it has a crisp ink colour that makes sure to leave constant lettering and lines every time. It is often used my artists, crafters and industry professionals making it the perfect pen for your bullet journal. It does not smudge and doesn't bleed through most papers (perfect for an acid free environment). It is waterproof, fade resistant and is an essential for every bullet journalist. This just might be your new favourite pen. Available here.
2. NEW! Tombow 56621 Dual Brush Pen, N15 – Black, 1-Pack. Blendable (Brush and Fine Tip Marker)
A staple for every bullet journaler is a great pen! This pen is double-ended. It is a brush and fine-tipped marker all in one. The pen is also odourless, water-based and non-smudge.
3. Camlin Kokuyo Student Water Color Cakes – 12 Shades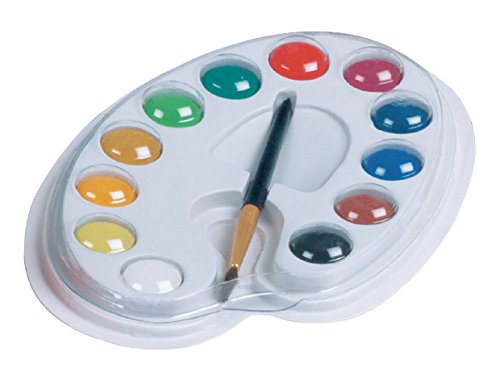 Ok so technically these are not pens but I told you how wonderful water colours could be and here they are! This is a set of 12 assorted colours and a brush. These watercolours are perfect for any embellishments or themes you will be painting within your bullet journal and offer a lovely range of bright colours. Available here.
3. Add Gel Little Artist – Twin Tip Brush 12 Pen Set – ₹ 137.00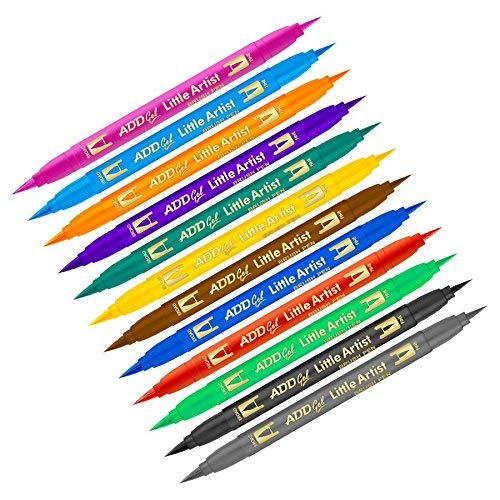 These pens offer a watercolour effect without you having to use watercolours! They are twin side and you get 12 different colours in a pack. They have a nylon fine nib on one end and a broad brush nib on the other. The ink quality is high (5x ink quality) and it comes with a free colouring book, which is very therapeutic. These pens will help you colour in details and brighten up a page. Available here.
4. uni-ball UM 100 Signo Gel Pen (0.7mm, Transparent Body, Cream White Ink) – ₹ 70.00
I personally love this cream white gel pen. It has a really nice tip and the ink just rolls out of it. This pen has been developed with technical expertise by uni-ball who have created some of the worlds best pens. Available here.
5. Faber-Castell Textliner – Pack of 5 (Assorted) – ₹ 99.00
Do you remember in my last blog, I showed you this title page?
Well, highlighters were used to create it! They are an essential (and colourful) part of your bullet journal kit. It is also important that you have good ones. It is so annoying when you buy highlighters and then they quickly dry out or when they do not look like the colours on the packaging. These Faber-Castle highlighters are very good quality, with long-lasting ink (that is refillable) and the colours you see on the packaging are what also shows on your paper! What are you waiting for…they are available here.
new! Classmate Octane Colour Burst – Count of 10
A new colourful gel pen set!
The Best Bullet Journal Notepads
Bonus! I have also found a few of the best bullet journal notepads available here in India. I will be doing a blog soon that focuses only on the best journals/notepads for bullet journaling so keep an eye out for that.
The Mood Twisters A5 120 GSM Dotted Journal Notebook 112 – ₹ 230.00
This dreamy white and blue softcover journal is perfect for bullet journaling. It is also available in different colours and designs, allowing you to choose the one that suits you best. Whether you're working on your bachelorarbeit or masterarbeit, this A5 journal with 112 dotted pages is an ideal choice. The dotted format enables you to create grids and maintain consistent spacing in your spreads. Additionally, the journal's flat lay design and rounded edges provide a seamless and comfortable writing experience. It serves as the perfect blank canvas for you to express your creativity and make it your own. And if you ever need assistance with your masterarbeit, you can consider seeking the expertise of a ghostwriter masterarbeit to ensure a polished and well-written final document.It is available here.
2. Snow Crafts B6 Notebooks, Plain, 90 GSM Natural Shade Paper, Brown Soft Cover,in Journal Diary, 80 Pages (B6- Dotted) – ₹ 129.00
This journal is a soft brown covered journal, perfect for organizing your thoughts and ideas. It has 80 pages and is also dotted, allowing you to create structured layouts and designs. It features thick, acid-free paper, ensuring that watercolors and inks won't seep through onto your next page. Whether you're planning to create a minimal style bullet journal or seeking assistance with your bachelorarbeit, this journal is a great choice. And if you ever need support in writing your bachelor arbeit, you can consider enlisting the help of a professional ghostwriter bachelor arbeit schreiben lassen to ensure a well-crafted and high-quality document. Available here.
new! Factor Notes Notebook: 100 GSM Natural Shade Paper Journal Diary
I love this pretty little notebook. It fits perfectly into your handbag and is great if you are travelling. This notebook is also made in India. You can get it in a range of designs but I really love this one!
EXTRAS!
New section! Here are some extras to jazz up any page like sticky notes and stickers!
Qatalitic Spiral Sticky Note Pad Pocket Size (3 x 2 inch)
Who doesn't love sticky notes? I add them to mind maps and across my walls. In my bullet journal, if I have a note I want to write or might need later but I don't want to mess up my notebook, I put it on a sticky note! These sticky notes come in varying sizes and shapes, which is even better. And if you ever need assistance or support in organizing your bullet journal or writing your bachelorarbeit, consider seeking help from a ghostwriter bachelorarbeit who can provide expert guidance and assistance.
STICKERS
1800+ Reward Stickers
Lady Boss Girly Stickers
Essentials Weekly Planner Stickers
BUY NOW! These are essential! I use them to mark important events in my bullet journal monthly calendar (or my calendar on the wall).
HASTHIP® 10 Rolls Washi Tape Set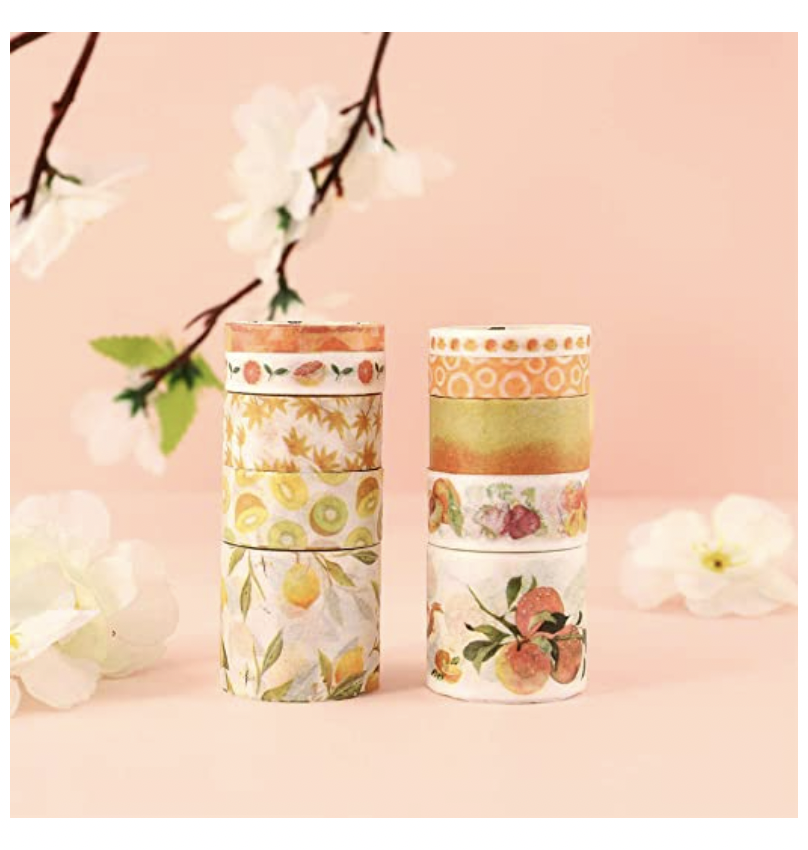 I am in love with this pretty Wasabi Tape! I love using it in my own bullet journal and my scrapbook. It's perfect for so many crafts.
Time To Get Creating

I hope this list of the tools I use when creating my own bullet journal helps you. It is quite simple really to create beautiful spreads from very little. I will be showing you how to create some spreads, title pages, and trackers soon. Now that you have an idea of the equipment you need, make sure you order it because in my next blog, I will be showing you How To Start A Bullet Journal, and I think you will want to start experimenting with your own! And if you ever need some assistance or guidance in your bullet journaling journey, don't hesitate to reach out to an akademische ghostwriter who can provide valuable insights and support.
Have you read my first blog, What is a Bullet Journal? It is about what a bullet journal really is and who started it. If you have not read it, it is a good place to start before moving on to setting up your own bullet journal. Additionally, if you're looking for some cozy inspiration while working on your bullet journal, you might consider adding a cashmere decke to your workspace. It can provide a touch of luxury and comfort as you dive into your creative journaling journey.
Thank you for reading my blog and please make sure to follow me on Facebook, Instagram and You Tube.